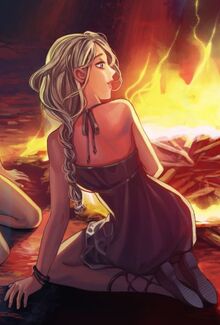 Cornflower (Debra Matson) is a superhero and a member of the Sioux Falls League. She is the younger of the two women on the team, being described as around 18 years old. Cornflower is a Whateley Academy alumnus, class of 2006 and a former member of Venus Inc..
Description
Edit
She's blond, well-built, with cornflower-blue eyes.
She is an Exemplar and an Energizer, with the ability to send out concussive pressure waves. She is also a Regenerator[1] of some level, although it's not clear if that's because her exemplar level is high, or if it's an independent power.
Associations
Edit
Sioux Falls League Heroes
Sioux Falls League Interns
Sioux Falls League Staff

Don is described as a nerdy-looking guy in his mid forties. He's the team's resident Gadgeteer and Devisor.
Javier is described as Hispanic and in his mid twenties. He's one of the team's laboratory technicians.
Romeo Foxtrot (a nickname picked up while he served in the military)[2] is the team's communications guru.
Dr. Winkler is the team medic.
Yvonne is described as in her thirties. She's one of the team's laboratory technicians.

Friends
References
Edit
Community content is available under
CC-BY-SA
unless otherwise noted.