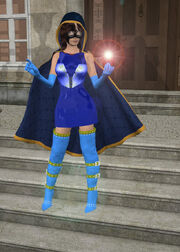 Rebecca "Becky/Bekky" Corbin, code name Foxfire, is a mage and a manifestor. She's from California.[1]
Her familiar is a young fox named Slyboots, or Boots for short.
She's convinced that Team Kimba has a well-laid secret plan to take over the campus, and is extremely curious about Fey in particular.
She's appeared as a main or major character in a number of stories.[2][3][4]
She went to Boston on the second trip, as part of Silver's party.[3]
Shoulder Angels, there was no way she'd be left out![5]
By 2007-03-06, "Foxfire is warning all the mages about Palantir."[6]
Stories
[
]
Main Character
[
]
Side Character
[
]
Mentions
[
]
Classes
[
]
Winter 2007
[
]
Associations
[
]
References
[
]