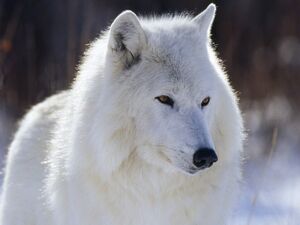 Stella Woolfe[1], code name Lupine[2], is an Exemplar-1, Shifter-3:tfnwm, Channeler-2, and a wolf-were; she's actually a wolf that turns into a human.[1] Stella didn't know Becky's big sister, Susan, who graduated in 2006, implying that she's a member of the Class of 2010.[3] Her uncle is Coyote.
Family history
[
]
Stella is actually a member of a wolf spirit (well, canine-spirit at least; one of her uncles is Coyote) clan. Due to an ancient pact of friendship, she was placed in the womb of a human woman, and "born" as an apparent human girl. A few years later, she was approached by her wolf-spirit relatives and taught how to shift into wolf form, among other things.
Her parents descend from a now dispersed branch of the Lakota Native American nation called the Wolf Tribe, but they are both partially Caucasian. When they married, they accidentally "recreated" the tribe and reactivated the ancient pact. Before being informed of their common ancestry, they thought having similar surnames (Wolf and Woolfe) was just a funny coincidence.[1] She is a member of the Native American cultural group at Whateley known as The Nations.[4]
Appearance
[
]
In human form, she's about 5'8" and has white hair and eerie yellow eyes. In wolf form, she appears to be a very large white dog or wolf. In garou-form, well, she's in-between.
Powers
[
]
Shapeshifter (three forms).[1] Ability to transfer to spirit world.[7] Ability to see avatar spirits.[7] Spellcasting (healing spells).[7] Shaman, having the ability to channel the power of spirits and elements, not to be confused with avatars who host spirits and elements.[1]
Skills
[
]
Speaks Shoshone, Cree, and Crow. Pistol and Rifle use. Knife fighting. Spear.[7]
Appearances
[
]
On October 21 2007, taking advantage of the nice day, she was walking around with a Frisbee in her mouth, wagging her tail and trying to get people to play with her.[11]
Classes
[
]
Fall 2006
[
]
Winter 2007
[
]
Associations
[
]
References
[
]