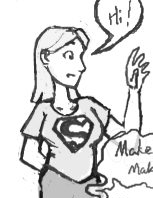 Misty Cooley, code name Superchick, is an Exemplar and a gravitic supergirl. She can fly and cause gravity effects at a distance, up to throwing light trucks around. She came to Whateley in February 2007 and rooms with Jadis Diabolik in Melville Cottage.[1]
She comes from Darrington, Washington, and she's the kind of super-bubbly enthusiastic blonde you want to strangle before too long. Each of her dozen and a half plush unicorns has its own name and story. Known names include Sprinkles. She's more intelligent than her appearance and demeanor leads one to believe, however. Her insights into Belphoebe's situation proved very helpful to Jadis.
She went on Jadis' and Belphoebe's shopping trip to Boston, MA,[1] and again to New York City.[2]
Upon the recommendation of Lindsay she's recruited for Wondercute.[3]
References
Edit
Community content is available under
CC-BY-SA
unless otherwise noted.