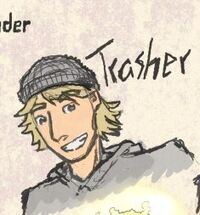 Nathan Thurston, code name Thrasher, is one of the Bad Seeds.[1] He's a TK superman who's managed to get his PK shell to become frictionless. He's one of the Parkour Hooligans. His father is Mach-5, a speedster who gave up theft when he encountered the Dragonslayers. His mother is considered scary by the Sabretooths.[2]
He has been described as "dressed like a punk, hair like a hippie." He has ice-blue eyes.[3]
Thrasher's first or middle name may be Ryan
Personality
Edit
for all his talk, he was a perfect gentleman to the girls he showed any interest in, and more importantly, he understood and respected the power of the word no[4]
Appearances
Edit
He saves the Lamplighter's life in Boston.[3]
He teams up with Sensei Ito during the Halloween invasion.[2]
He's in the Bad Seeds intro story.[1]
He reactivates the Parkour Hooligans with Caitlin[4]
He figures in the Bad Seeds' Christmas adventure.[5]
Associations
Edit
References
Edit
Community content is available under
CC-BY-SA
unless otherwise noted.